What is a Translation Agency and How a Translation Company Works?
Translation services in the European Union
There more than 26,000 translation agencies worldwide. They are both large and small. The annual turnover from all companies within the industry amounts to 42 billion Euros (2019), and it is growing by 7.90% each year.* Approximately 85% of all the translation agency turnover worldwide is made up from small to medium-sized translation agencies with up to 10 employees. The top 100 translation agencies' overall turnover is only about 14.30% of the total amount of the language service market.** Both globalisation and digitalisation promote the expansion of translation agencies. The largest translation market is Europe (about 50% of the global market), which is followed by North America (around 40%). The remainder is split between Asia and Latin America.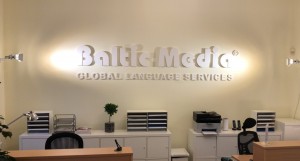 Common Translation Agency
You have found a world-class translation company specialising in region-specific languages and offering translation services from and into Northern European languages.
However, other companies are specialised in translating, not only from regional or resident languages, but also within specific industries, like healthcare, legal, technical documents, websites and other such texts.
There are translation companies which are backed by global stock markets and various funds, with an annual turnover of hundreds of millions. Such as Transperfect, Semantix, Lionbridge, Welocalize, LanguageLine Solutions and other Top 100 companies. These Language Service Providers (LSP) are particularly important to medium-sized and small translation agencies, which tend to buy specialised language services from them. Some medium-sized translation agencies work only as providers to the Top 100, while also being on this list.
Who Works in a Translation Agency?
Usually, employees of translation agencies are qualified linguists - translators. On the whole, translations are made by freelance translators, who work with multiple translation agencies and live in different countries. However, translation agencies tend to use the services of in-house translators. Modern-day translators and translation agencies cannot be imagined not having knowledge on cutting-edge technology and its use, for example, automated machine-translation and computer-aided translation (CAT) software. Success requires that the modern-day translator and translation agency employees have higher education and competence in specific technologies. The work is still, however, performed by a human being – the professional translator - despite the continual improvement of automated technologies.
What is Translation?
Translation is re-creating and/or explaining written or spoken text from one language to another.
The aim of translation is to convey a message from one language to another by considering cultural and regional differences between source and target languages.
Humanity has used translation for centuries with the appearance of written literature. To perform their work, modern day translators use complicated tools and technologies; however, for the purposes of simplifying and optimising, mainly rely on digital translation technologies.
We use written translation daily, even if sometimes it seems self-explanatory.
For example, look at food product labels. It must be in your language - not only in order for you to know what you eat, but also for you to know which ingredients might cause an allergic reaction.
This is only one of the many examples which show how professional translations help us daily. The work of a translator, however, tends to remain invisible. Yet, translation is all around us.
It is hard to imagine life without it.
Organizations around the world, encompassing a multitude of sectors, missions, and mandates, rely on translation for content as diverse as product labels, technical documentation, user reviews, marketing materials, annual reports, and much, much more.
You are welcome to get acquainted with language services we offer at the Baltic Media translation agency.
Your online Nordic-Baltic translation agency Baltic Media®
Nordic-Baltic Online Translation agency Baltic Media is a leading provider of online translation services in Northern Europe specializing in Northern European (incl. Nordic, Baltic, Slavic) languages mostly in translation services from/into Swedish, Finnish, Danish, Icelandic, Norwegian,
German, English, Polish, Russian, Latvian, Lithuanian and Estonian.
As an ISO certified language service provider, translation agency Baltic Media offers human translation services for corporate, public and individual clients.
*Source: Statista Research Department